Hydros Control XS Starter Kit - CoralVue
Hydros Control XS Starter Kit - CoralVue is backordered and will ship as soon as it is back in stock.
---
Description
It doesn't just make SENSE, it Controls too! 
The HYDROS Control XS Starter Kit is the ideal solution for small to midsize aquariums. This controller includes 4 universal-use Sense Ports for aquarium parameter measurement and safety. It's perfect as a standalone controller for a basic saltwater or freshwater tank or combine it with other HYDROS devices as part of a larger system!
What's Included:
1x Control XS Unit
1x Power Supply
1x Temperature Sensor
1x 4-Outlet WiFi AC Power Strip
HYDROS App

About HYDROS Control XS
Don't let the compact size of the HYDROS Control XS fool you. It is perfectly capable of performing all the main functions for your saltwater aquarium or freshwater tank. It can monitor temperature, sense leaks, control outlets, send alerts, and much more. All HYDROS products are engineered, assembled, and supported in the USA.
What you can expect from your HYDROS Smart Device
Control your HYDROS device(s) from anywhere in the world using the technologically advanced HYDROS cloud-based app
Ability to monitor and control your HYDROS device(s) locally through WiFi
A fast dual-core 32-bit processor that allows control decisions to be made within each device
User sets the Alerts and Notifications
Versatile and Expandable without Extra Modules

Use any HYDROS device by itself or connect multiple devices as part of a larger automated aquarium system with NO single point of communication failure. Every HYDROS product is a smart device with its own CPU and scheduling capabilities.
IP-65 Rated – Splash Proof, Dust Proof, and Secure Connection

HYDROS devices look like industrial controllers because they are built to function in the harsh environment of a marine aquarium. The IP-65 rated HYDROS enclosure and aircraft-style connectors ensure long term reliability in the face of splashes and corrosive salt spray.
Command Bus - 2 Available
The Command bus not only powers the Control, but it also communicates with other HYDROS devices for the ultimate failsafe.
Sense Port - 4 Available
HYDROS devices are utilizing an entirely new way to measure parameters. A Sense Port is a universal input port that can gather data from numerous different types of sensors.
Sense Ports currently support:
Temperature probes
Optical level sensors (single and dual)
Capacitive non-contact liquid level sensors
Rope leak detectors
Point leak detectors
Flow rate sensors
Magnetic switches
Push-button switches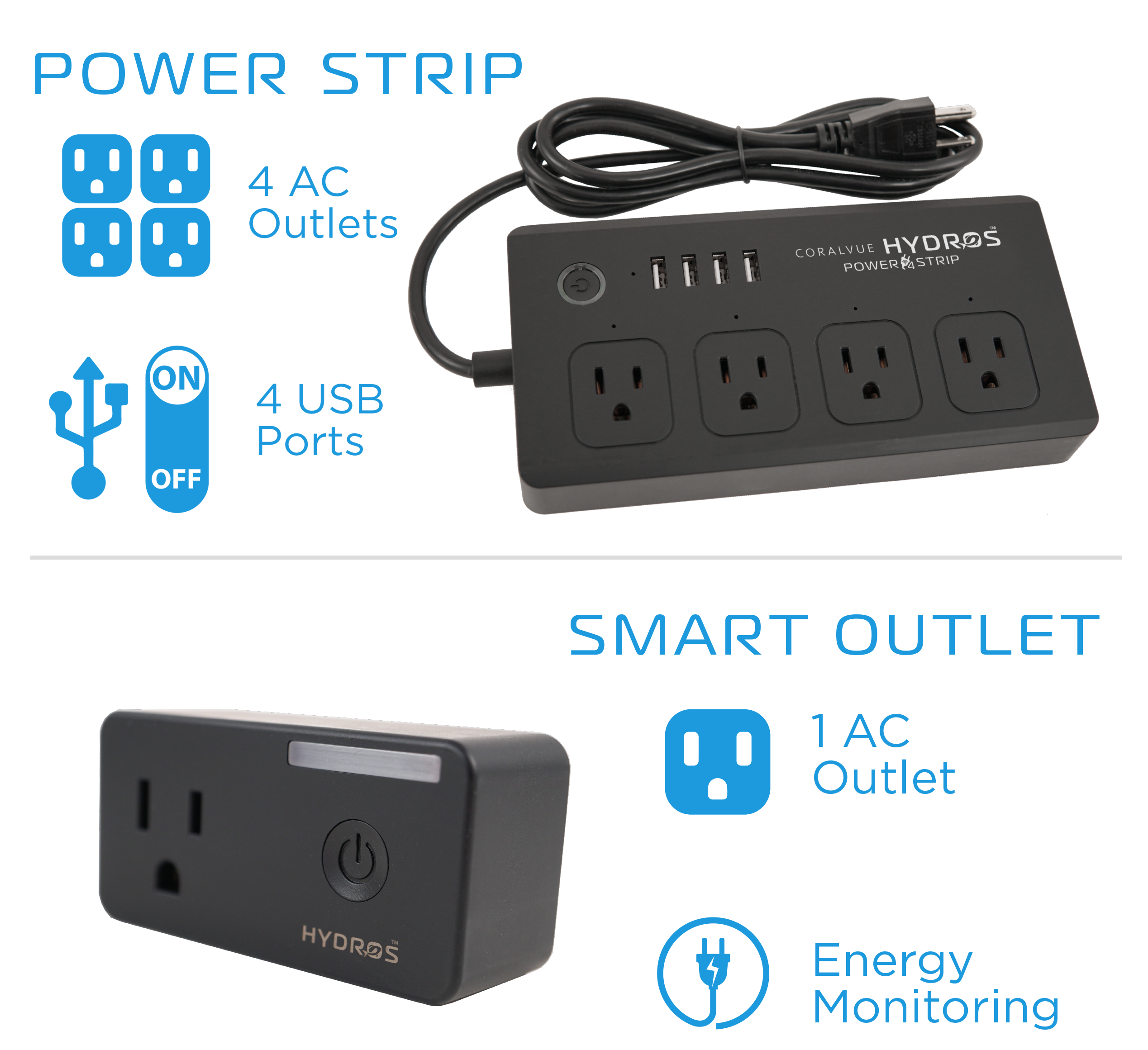 Control up to 8 WiFi Devices

The HYDROS App allows you to create rules and set schedules to control our 4-Outlet WiFi AC Power Strips and Smart Outlets. Quickly turn on or off different pieces of aquarium equipment like pumps, powerheads, lights, heaters, algae scrubbers, UV sterilizers, protein skimmers, and more.
WARRANTY
CoralVue, Inc. and HYDROS hereby guarantee this product to be free from defects in material and workmanship for a period of:
Warranty is activated on the date of purchase.
This Standard Limited Warranty applies and is limited as follows:
To the product only as long as it remains in the possession of the original purchaser.
To the product that has not been subject to accident, misuse or abuse.
To the product that has not been modified, altered, defaced, or had repairs made or attempted by other than CoralVue, Inc.
That CoralVue be immediately notified in writing within ten (10) days of first knowledge of defect by owner or his agent.
That CoralVue, Inc. shall be given first opportunity to make any repairs, replacements or corrections to the defective construction within a reasonable period of time.
Under no circumstances shall CoralVue and/or the Manufacturer be liable by virtue of this warranty or otherwise for damage to any person or property whatsoever for any special, indirect, secondary or consequential damages of any nature however arising out of the use or inability to use because of the product defect.
FREE Ground over $49 & Overnight over $399*
We offer competitive rates on aquarium supplies.
Reefer Rewards Points earned
Reedem points for discounts on Livestock and Supplies.
Split-Pay & Financing Options
We offer split-pay & financing options through Shop Pay.