Hydros WaveEngine V2 Standard Multi Pump Controller - CoralVue
Hydros WaveEngine V2 Standard Multi Pump Controller - CoralVue is backordered and will ship as soon as it is back in stock.
---
Description
Simplify the Way We Manage Flow Within Our Aquariums 
The HYDROS WaveEngine v2 can control, monitor, and even supply power to a variety of different aquarium pumps. Now you can use pumps from different brands together using a single, integrated flow management system. Control and monitor pumps from different brands together using a single app forming the ultimate flow management system. The WaveEngine v2 can also supply power to up to 4 pumps, freeing you of the clutter of power bricks, cables, and controllers in your aquarium stand.
With a single app, you can control a variety of different pumps all from your mobile device. Access all the features you desire, without the need for multiple apps, individual controllers, and bulky power supplies that require a "bird's nest" of cables and wires.
Until now, limited capabilities have restricted the simple controllers that manage popular pumps like the Maxspect Gyre, Reef Octopus Octo Pulse, TUNZE® Turbelle™ nanostream™, and EcoTech VorTech™ flow pumps*.
*Requires ETM Wireless Chip sold separately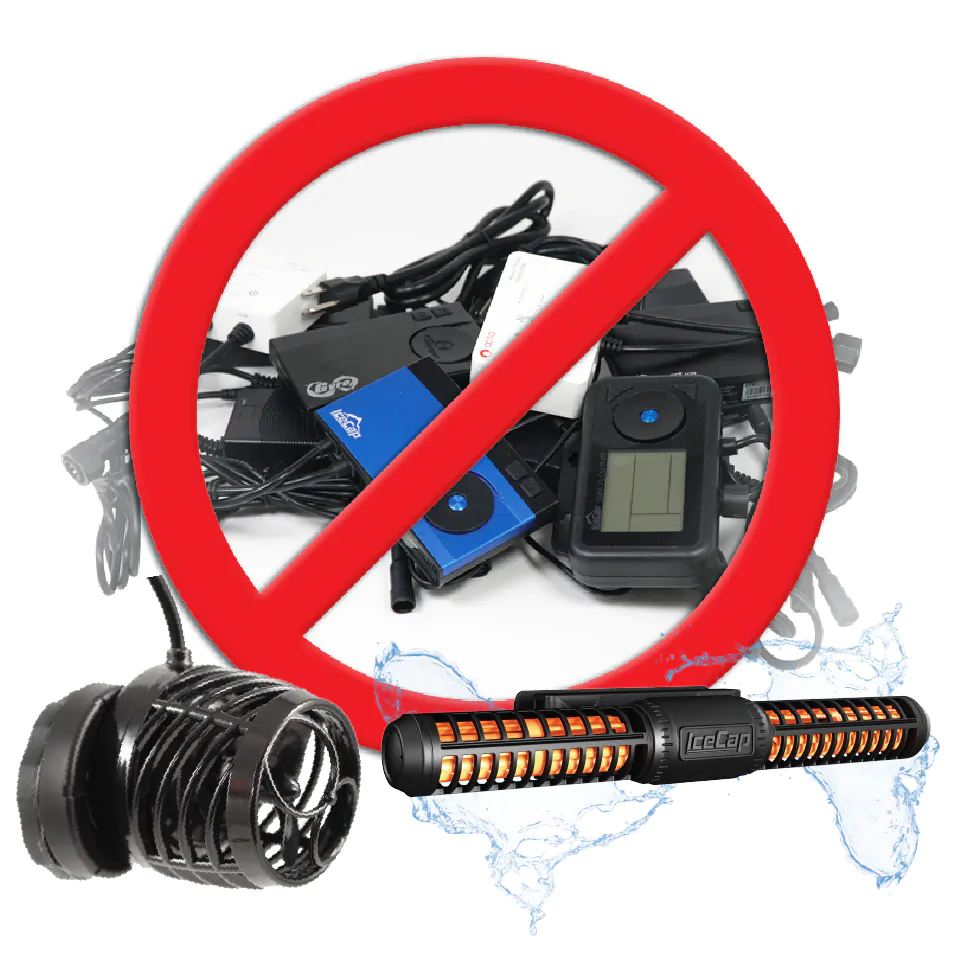 Direct Drive - Eliminate the Clutter
There are many pumps you can plug right into the WaveEngine, eliminating the need for not only that pump's external controller, but also its power brick. That's right! The WaveEngine can power up to 4 pumps simultaneously. Imagine all of the clutter you can clear out of your stand!
All that you'll need to directly connect pumps like the Maxspect Gyre, IceCap Gyre, Reef Octopus OCTO Pulse, and the upcoming Blade pump are HYDROS Direct Drive Adapter cords.
Maxspect Gyre XF-130 / 230, XF-150 / 250, XF-330 / 350, XF-280*
IceCap Gyre 1K, 3K, 2K, 4K
Reef Octopus RODC-2500, 3500 and 5500, VarioS-2 and 4, Octo Pulse 2 and 4
Available Direct Drive Pump Adapters: https://www.coralvue.com/hydros-waveengine-direct-drive-pump-adapters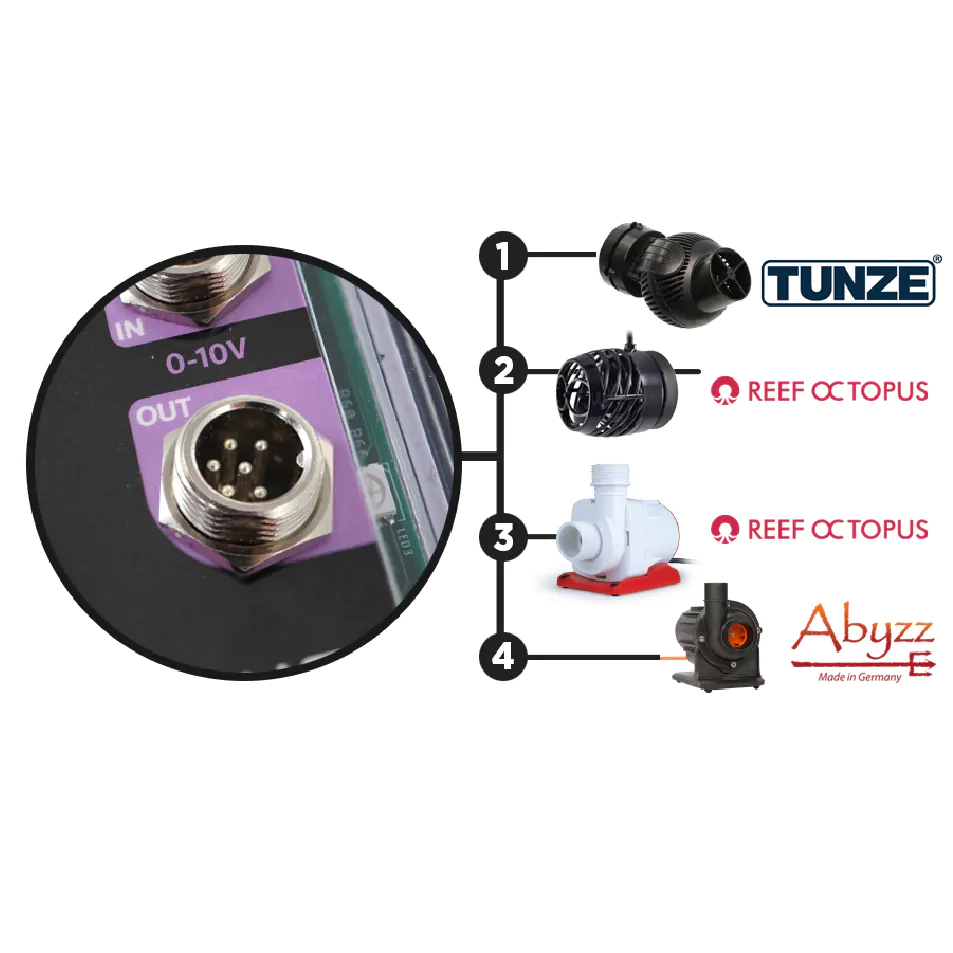 0-10V - Third-Party Control
Many popular pumps from brands like Tunze, Abyzz, and Reef Octopus have external controllers equipped with a 0-10V port that allows them to be connected to a third-party controller. You'll just need a HYDROS 0-10v quad adapter to plug in your pump and voilà! You can now take advantage of all the native flow modes and presets the pump offers without any complicated programming.
Abyzz Pumps
Reef Octopus Octo Pulse 2 and 4, VarioS 2, 4, 6 and 8, RODC 2500, 3500 and 5500
TUNZE® Turbelle™ nanostreams™ pumps.
PLEASE NOTE: An appropriate pump adapter or 0-10V cable (sold separately) is required to connect pumps directly to the HYDROS WaveEngine.
*Maxspect Gyre 280 pumps can only run at 75% max intensity.
NEW to v2 -
Control Up to 8 WiFi Devices

Now just like the other HYDROS Controls, the new WaveEngine v2 can control up to 8 WiFi devices for added modular control on additional equipment like lights, pumps, feeders, and more by simply adding a HYDROS WiFi Power Strip or HYDROS Smart Plug (both sold separately).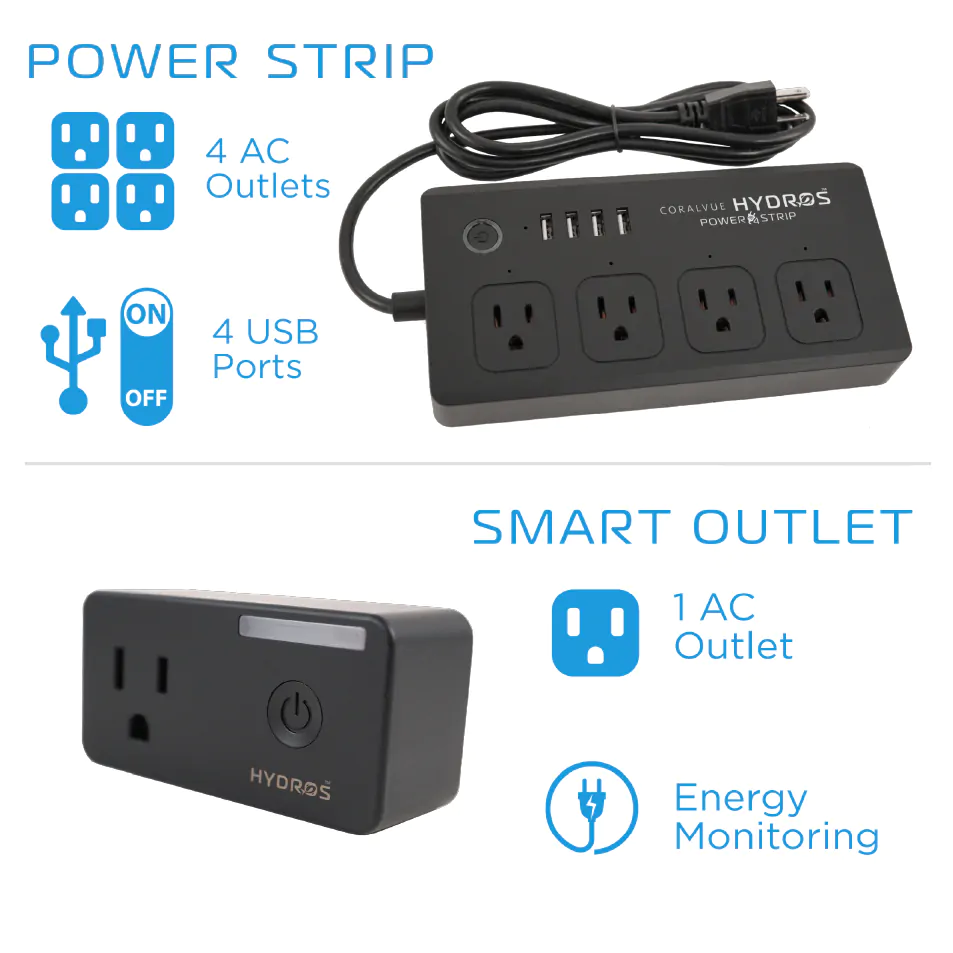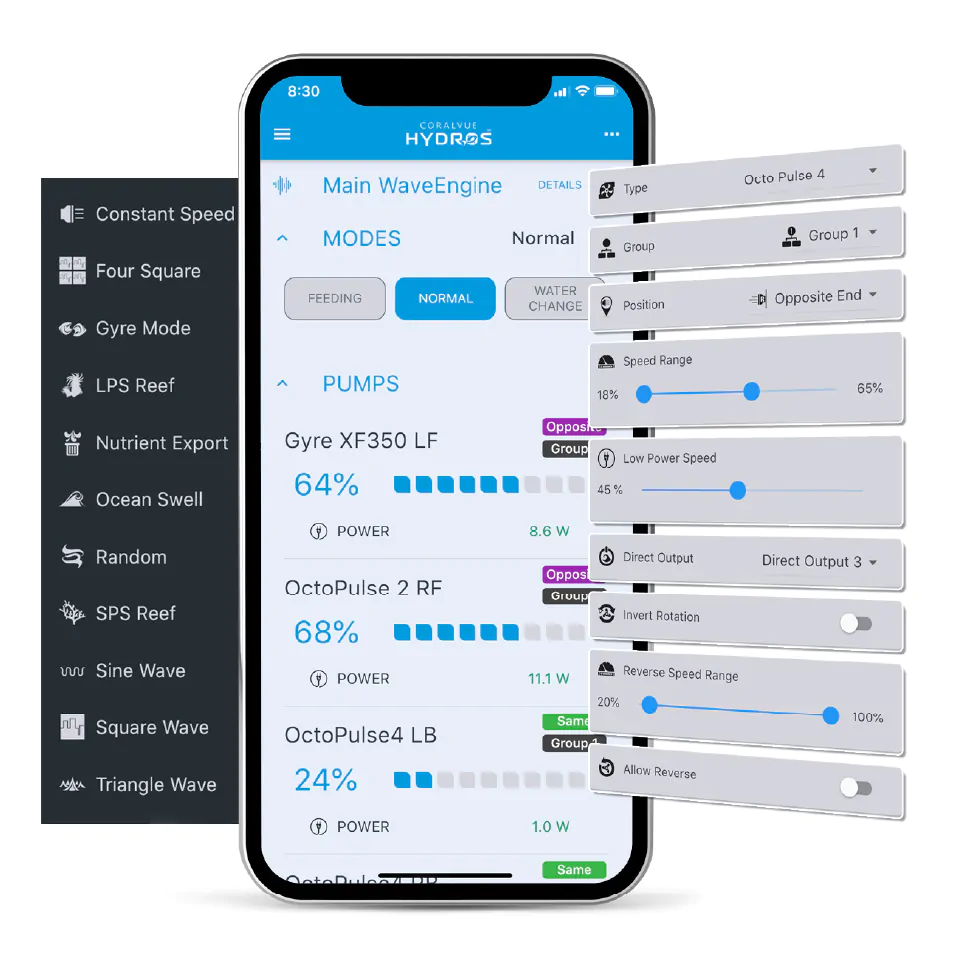 One App for ALL - Ditch the need for multiple apps or manual controllers!
The HYDROS App from CoralVue will completely replace the need for individual manual controllers and apps. The WaveEngine can tap into the native control platform of each pump to access all its preset flow patterns and modes or you can create your own!
Features:
Easily add pumps and specify the location of the pump in the aquarium as well as specify min & max speed a pump can run at
Use different brand pumps to work together in different flow presets such as sync, anti-sync, triangle wave, square wave, sine wave as well as many other preset wave patterns
Create multiple groups
Create and access operational modes such as Feed, Water Change, or Night mode
Monitor power consumption (volts, amps & watts) based on individual pumps & total consumption of all attached pumps
Monitor pump's RPM to ensure maximum performance
EcoTech Vortech™ pump compatible
Full cloud connectivity so you can control your pumps from anywhere in the world
Real-time notifications of system status & pump performance
Define custom flow patterns of any duration up to 24 hours with 1/1000 second accuracy
Create a HYDROS Collective
You can also connect CoralVue's own aquarium controllers directly to the WaveEngine using the CommandBus Ports. This allows your HYDROS devices to not only communicate with each other, but the WaveEngine can actually power the other controllers. So now you have more control and less clutter!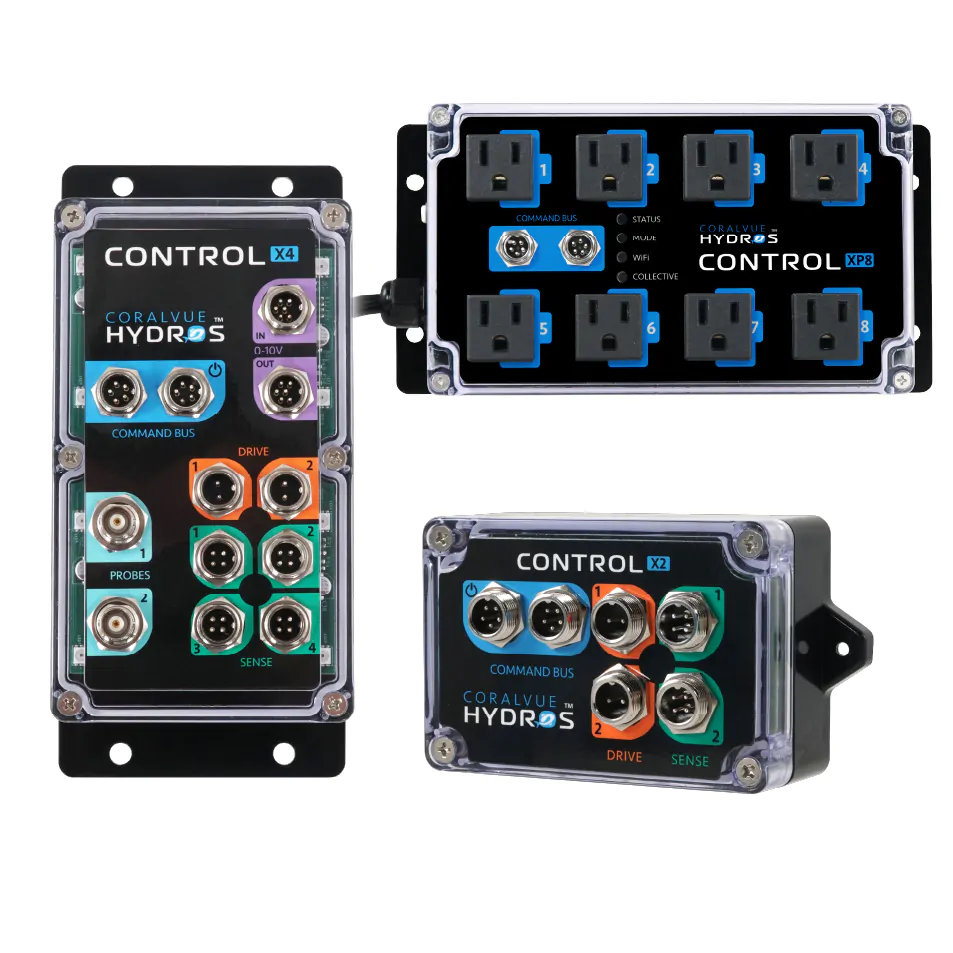 WARRANTY
CoralVue, Inc. and HYDROS hereby guarantee this product to be free from defects in material and workmanship for a period of:
Warranty is activated on the date of purchase.
This Standard Limited Warranty applies and is limited as follows:
To the product only as long as it remains in the possession of the original purchaser.
To the product that has not been subject to accident, misuse or abuse.
To the product that has not been modified, altered, defaced, or had repairs made or attempted by other than CoralVue, Inc.
That CoralVue be immediately notified in writing within ten (10) days of first knowledge of defect by owner or his agent.
That CoralVue, Inc. shall be given first opportunity to make any repairs, replacements or corrections to the defective construction within a reasonable period of time.
Under no circumstances shall CoralVue and/or the Manufacturer be liable by virtue of this warranty or otherwise for damage to any person or property whatsoever for any special, indirect, secondary or consequential damages of any nature however arising out of the use or inability to use because of the product defect.
FREE Ground over $49 & Overnight over $399*
We offer competitive rates on aquarium supplies.
Reefer Rewards Points earned
Reedem points for discounts on Livestock and Supplies.
Split-Pay & Financing Options
We offer split-pay & financing options through Shop Pay.